Breakfast? What's that.
Can I be honest for a minute? I guess so. I don't think anyone else is here, haha. Breakfast sometimes seems hard, but I know it shouldn't be. There are quite a few suggested routines you can add into your mornings to help ease the stress and set you up for your day. But damn, sometimes its like, coffee orr mascara? What do I have time for this morning?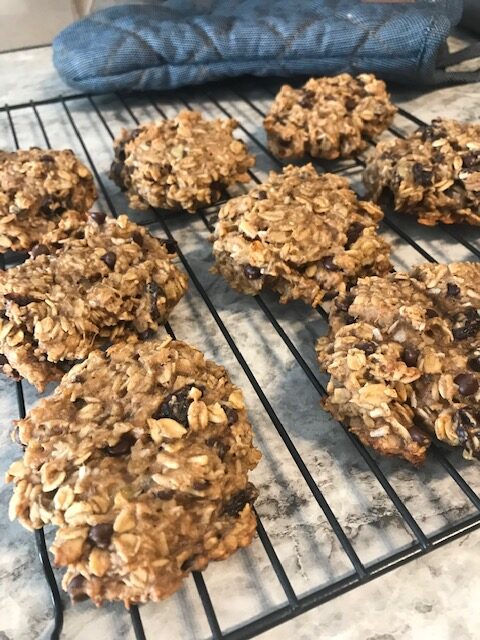 Clearly, I wasn't doing myself any favours by choosing coffee over breakfast, EVEN THOUGH I KNOW BETTER! So I came up with a quick grab and go breakfast cookie to fuel my mornings and show my body a little appreciation for the hours ahead.
The best part..it uses 2-3 banana's! Being 9 months into a quarantine, lets be honest, there is only SO much banana bread we can make.
Another thing to note about this recipe, is that it is completely flexible! The only ingredients I would recommend you stick to would be the bananas, nut/seed butter and oats. EVERYTHING else is modify-able.
Additions to play around with:
Flax meal
Coconut
Hemp Seeds
Dried Fruit
Adaptogen Powders and/or Cacao Powder (Make it chocolate!)
These cookies have become a fast favourite in our household. They are easy, grab and go, pantry cleaners and filling! I like to put chocolate chips in, because, well I don't need to explain why, haha. Our favourite chocolate chips are the Enjoy brand, mini chips. They are dairy free, vegan and completely delish. I'll link them here.
Lastly, did I mention there was another best part? You can throw everything in one big bowl to mix it. Which means very minimal dishes, so it doesn't add another huge task to your to-do list! And if there is anything I like more than cookies, it's minimal dishes!
I've compiled a quick screen shot of the recipe for you below, to keep it easy breezy. Let us know if you try them. ENJOY!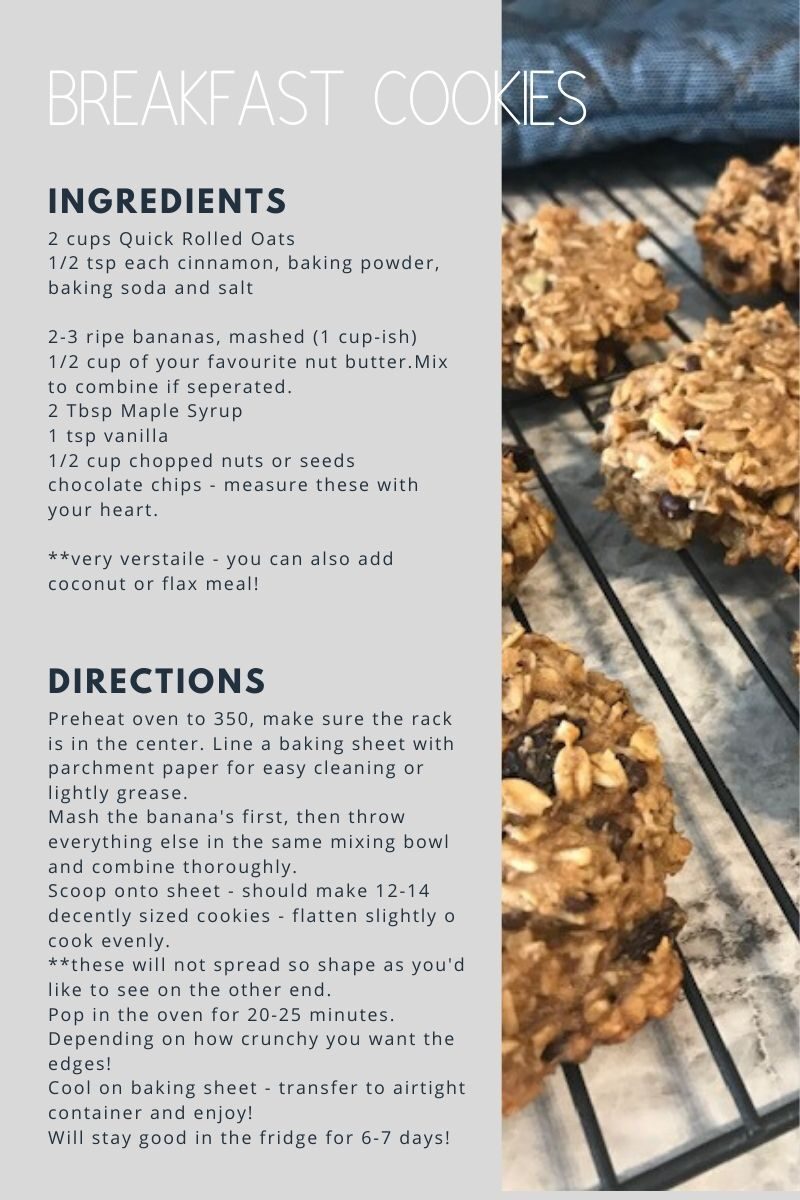 _____________________________________________________________________________________________________________________________________